---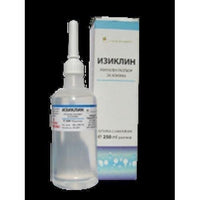 Sale
ISICLIN rectal enema solution EASYCLEAN Purpose:
EasyClean is a device designed to introduce a solution into the rectum and colon. Applies to:
• constipation due to difficult passage of faeces and / or faeces (hardened intestinal contents);
• cleansing of the lower bowel levels before performing various diagnostic or surgical procedures, including sigmoidoscopy and / or colonoscopy.
The product consists of a plastic polyethylene bottle with a nozzle and a protective cap made of polyethylene, for direct introduction of the ready-to-use solution.
ISICLIN rectal enema solution Composition of 100 ml of solution:
• Sodium dihydrogen phosphate dihydrate (Sodium dihydrogen phosphate dihydrate) -16.0 g,
• Disodium hydrogen phosphate dodecahydrate - 6.0 g,
• Sodium Methyl Parahydroxybenzoate - 0.2 g,
• Purified water up to 100 ml.
ISICLIN rectal enema solution EASYCLEAN Dosage and method of administration:
It is used only once a day for a short period of time. The procedure can be performed daily for up to 1 week. If necessary, it can be used up to 2 weeks after consulting a doctor.
The recommended dose for adults and children over 16 years of age is 250 ml, once a day, rectally.
Before use, the bottle should be warmed to human body temperature (in a water bath or close to the body). The patient should lie on his left side and bend his knees to his chest. After removing the protective cap, the lubricant-coated nozzle is gently inserted into the rectum in the direction of the navel. To avoid injury to the rectum, no strong pressure should be applied and the insertion of the tip should be stopped immediately if an insurmountable mechanical obstacle is found. After inserting the nozzle into the rectum, the bottle should be pressed until the solution contained in it is almost completely released. After the solution enters the rectum, the patient should not change position and wait until the urge to defecate occurs, usually 2-5 to 15 minutes after the enema.
Warnings
Do not use EasyClean on:
Hypersensitivity (allergy) to the components of the solution;
Severe renal failure;
High levels of phosphates in the blood;
High levels of sodium in the blood;
Low levels of potassium in the blood;
Low levels of calcium in the blood;
Addison's disease;
Congenital or acquired bowel abnormalities;
Congestive heart failure (severe heart disease);
Ileus (obstruction on the cheravta);
Intestinal perforation (breakthrough);
Acute colitis;
Toxic or congenital megacolon (swelling of the colon);
Hypomotility syndrome (decreased intestinal peristalsis);
Ascites (collection of fluid in the abdomen);
Pregnancy and lactation.
EasyClean is not administered orally.
Not used in children under 16 years of age.
It is applied only rectally as an enema. Disposable!
Contraindications
EasyClean should not be used in patients with toxic megacolon, congenital megacolon (Hirschprung's disease), congestive heart failure, gastric, intestinal and rectal obstruction. If the rectal obstruction is from feces, the enema may be part of a treatment complex.
The product should be used with caution in patients with renal impairment, heart disease, dehydration or present electrolyte disturbances due to an increased risk of hyperphosphatemia, hypernatremia, acidosis, hypocalcaemia and tetany.
In patients with nausea, vomiting, increased intestinal motility and abdominal pain, the use of EasyClean should be avoided.
Warnings and precautions
Although saline cleansers are well tolerated and do not pose significant risks with short-term rectal administration, long-term administration (over 2 weeks) and especially high doses (more than once daily) of phosphates can cause water disorders. electrolyte balance, acidosis, diarrhea, hypovolaemia (decreased blood volume) and osteomalacia (due to persistent hypocalcaemia), therefore the enema should not be used for more than 2 weeks.
If after the application of the enema there are no urges to defecate and respectively no fecal mass is excreted within more than 30 minutes, as well as in the case of blood in the stool after administration of the product, the patient should seek medical attention immediately. .
It is normal to detect residual solutions in the bottle after applying the enema.
Put the used bottle back in the carton and dispose of it in the designated places.
Special precautions
In patients with severe renal impairment, phosphate elimination is delayed, resulting in an increased risk of hyperphosphatemia, hypernatraemia, hypocalcaemia (electrolyte disturbances) and hypovolaemia with EasyClean.
Medicine intake
Due to the risk of electrolyte disturbances in the blood, EasyClean should be used with caution in patients treated with diuretics and other medicines that affect the water-electrolyte balance. Calcium antagonists may aggravate the symptoms associated with EasyClean-induced hypocalcaemia.
Rectal administration of EasyClean causes evacuation of the contents of the colon exclusively and practically does not affect the bioavailability of other orally administered drugs. It should be used with caution in patients taking medicines that prolong the QT interval of the electrocardiogram.
Unwanted reactions
Rectal irritation, swelling, redness, bleeding, necrosis and rectal rupture have been reported extremely rarely. If any of these symptoms occur or if a patient complains of pain or burning during the infusion of the solution, the procedure is stopped and the GP is notified.
Prolonged abuse of the product carries the risk of symptoms such as weakness, dehydration with hypovolemia, osteomalacia (bone breakdown), bone pain and weight loss.
Geriatric patients and patients with renal insufficiency are at risk for adverse reactions.
In case of accidental or intentional overdose, as well as in any case of incorrect oral administration of EasyClean, seek medical attention immediately!
Keep out of reach of children!
Do not use after the expiry date which is stated on the pack!
---