---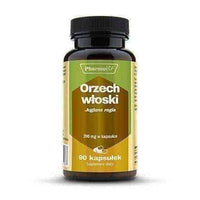 Sale
PharmOVit Dietary Supplement Walnut contains high quality powdered walnut leaf buds (Juglans regia). The preparation is recommended for use by adults as a support for the cleansing process.
Ingredients:
Powdered walnut leaf buds (Juglans regia), gelatin, micronized apple pomace.
Ingredients in one capsule (recommended daily allowance): Juglans regia powder (200g), Micronized apple pomace (50mg).
Action:
Walnuts are one of the most popular and certainly the most commonly eaten nuts. Many people, however, do not know that much more valuable, and consequently often used in herbal medicine are walnut leaves. It is worth to use the beneficial properties of this raw material, using PharmoVit Nutritional Supplement Walnut. It can be used, for example, as an aid to cleanse the body. An additional advantage of the preparation is the content of micronized apple pomace, that is the source of fiber.
Application:
Pharmacovit Nutrition Supplement Walnut is intended for use in adults as a means of supporting the functioning of the body.
Additional Information:
Dietary supplement can not be used as a substitute for a varied diet and healthy lifestyle. Keep product out of the reach of children at room temperature. Protect from light. Before using the supplement during pregnancy and lactation should consult a doctor.
Contraindications:
Do not use in case of hypersensitivity to any of the supplements.
Directions for use:
Recommended daily dose: one capsule. Maximize one capsule per day. Do not exceed recommended servings for consumption during the day.
Net weight: 31,5g.
Details: Juglans