---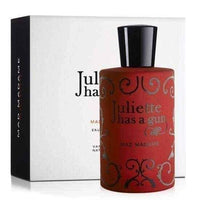 Sale
Juliette Has A Gun Mad Madame Eau de Parfum 100ml Spray.
Misbehave with the Juliette Has a Gun Mad Madame Eau de Parfum, a decadent, aphrodisiac fragrance for women.
The daring Eau de Parfum is for a woman who is provocative and fascinating. No one is left indifferent to her presence: she whispers and ignites conversations in her wake, and she loves every second of it. The Mad Madame perfume is the perfect accompaniment to this charismatic yet enigmatic woman, a deeply sensual, explosive eau de parfum that leaves no doubt about its intentions.
The green chypre fragrance revolves around the slightly metallic rose oxide note, together with a bright ribbon of blackcurrant bud absolute, and a resonating woody-modern ambroxan accord. A more mature Juliette Has A Gun fragrance, but no better behaved.
Top Notes: Rose Oxyde, Ambroxan, Blackcurrant Bud Absolute, Freesia Accord
Heart Notes: Peony Accord, Patchouli Essence, Tuberose Absolute, Sylvester Moss, Hedione Hc
Base Notes: White Musk, Tolu Balm Absolute, Vanilla Absolute, Castoreum Absolute, Animalys Absolute.
Perfumes and aftershaves sorry UK only. We will ship only in UK territory. Allowed for UK addresses only* but are prohibited in Business Response, Freepost™ and all variants of Packetpost™ and Packetsort™.