---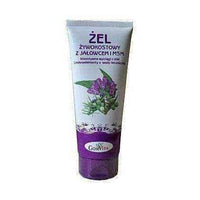 Sale
MSM (barley) gel

. Injuries and joint injuries such as sprains and bumps are often manifested by swelling and swelling.

In order to reduce them, it is advisable to use Gorosta's juniper and MSM gels.

It will help to nourish and improve the work of the joints.
Composition:
Aqua (modified water solution: bicarbonate-chloride-sodium, bromo-iodide-bromide from Rabka SA), Symphytum Officinale Extract, Boswellia Serrata Extract, Methylsulfonylmethane, Juniperus Communis Limonone Extract, Propylene Glycol, Glycerine, D-Panthenol, Triethanololamine , Allantoin, Polysorbate-20, DMDM ​​Hydantoin.
Action:
Gorvita with eczema, juniper and MSM is a way to reduce joint swelling, improve their work and relieve discomfort. The gel is easily spread and absorbed quickly, leaving no oily layer on the skin. The active ingredients of the gel, namely the comfrey extract, boswelia and juniper, help joints and reduce swelling caused by injuries such as: fractures, dislocations and joint and tendon injuries. Natural allantoin, MSM along with vitamin B5 and proteins support skin regeneration, which has been irritated by external factors (bruises, bedsores, frostbites, sunburn). Hydrocarbon-chloride-sodium and bromo-iodine-boric healing water, which is extremely rich in trace elements and bio-nutrients, strengthens the effect of the product.
Application:
Barley juniper and MSM for use on the skin around the joints to reduce swelling.
Additional Information:
Store at room temperature, in a dry place, away from children. Protect from the sun. The gel was not tested on animals. Dermatologically tested. Ingredients of natural origin.
Contraindications:
Do not use in case of hypersensitivity to any of the ingredients.
Usage:
Gel for external use. Depending on your needs you can lubricate several times a day. The preparation should be massaged into the skin until absorbed.
---