---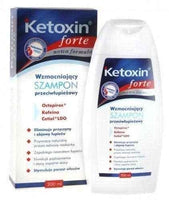 Sale
Ketoxin Forte shampoo, effectively strengthens the hair and eliminates the causes and symptoms of dandruff. Contains Octopirox, which prevents the recurrence of dandruff, caffeine that stimulates hair growth, and Cetiol LDO, which reduces scalp irritation.
KETOXIN Forte shampoo Composition:
Aqua, sodium laureth sulfate, disodium laureth sulfosuccinate, cocamidopropyl betaine, cocamide dea, coco-glucoside, hydrolyzed collagen, sodium chloride, dicaprylyl ether, lauryl alcohol, piroctone olamine, parfum, propylene glycol, polysorbate 2-, panthenol, linoleic acid, linolenic acid, arachidonic acid, tocopheryl acetate, retinyl palmitate, bioflavonoids, biotin, piridixine hcl, polyquaternium-10, tetrasodium edta, caffeine, sodium benzoate, citric acid, cl 16185, methylisothiazolinone, benzyl salicylate, citronellol, limonene.

KETOXIN Forte shampoo Action:
Ketoxin Forte is a strengthening, anti-dandruff hair shampoo with an innovative, delicate formula. It contains patented substances such as: Octopirox, eliminating the causes and symptoms of dandruff and preventing its recurrence, and Cetiol LDO, which reactivates the natural processes of epidermis renewal and reduces skin irritation, and also restores hair softness and shine. The shampoo formula has also been enriched with caffeine, which stimulates hair to grow and strengthens weakened bulbs.

KETOXIN Forte shampoo Application:
Ketoxin Forte is recommended for people with a tendency to dandruff. Perfectly strengthens, nourishes and prevents the recurrence of dandruff.

Usage:
Apply a small amount of shampoo to wet hair, massage hair and scalp. Leave the foamed shampoo on your hair for 1 minute, then rinse with water. It is recommended to use 2-3 times a week for 1 month to fix the problem and 2 weeks for preventive purposes.
---