---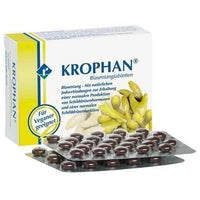 Sale
Krophan
®
bladder rod tablets Dietary 100 pc
supplement made from bladder wrack - With natural iodine compounds to maintain normal production of thyroid hormones and normal thyroid function
KROPHAN bladder rod Ingredients:
filler (cellulose), bladder wrack (42%), filler (cross-linked sodium carboxymethyl cellulose), anti-caking agents (magnesium salts of fatty acids, talc, polyvinyl pyrrolidone, polyvinyl pyrrolidone) ), Coating agent (hydroxypropylmethylcellulose), coloring agent (iron oxides and iron hydroxides), edible oil (sunflower), coloring agent (titanium dioxide)
KROPHAN bladder rod Recommended intake:
Children from 5 years of age, adolescents and adults 2 tablets with plenty of liquid with a meal (preferably with breakfast). Pregnant and breastfeeding women 2-3 tablets. The daily consumption recommendation should not be exceeded.
Food supplements should not be used as a substitute for a varied and balanced diet or a healthy lifestyle.
---