---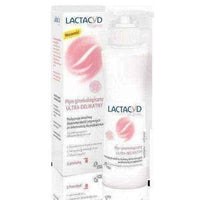 Sale
LACTACYD

PHARMA fluid gynecological Ultra-fine product which is exceptionally mild action of washing and purifying. Nourishes and regulates bacterial flora intimate surroundings.
Composition:
active ingredient: lactic acid
Action:
Liquid Gynecological was composed of extremely delicate blend of ingredients. Thanks to exhibit mild cleansing and washing. Refreshes and removes odor. It does not contain fragrances and does not cause irritation. It characterized by a low pH (3.5), which has a beneficial effect on the proliferation of the lactic acid bacterial flora regulating intimate spheres.
Indications:
The product is recommended for use in the context of intimate hygiene in women who have very delicate skin and a tendency to irritation and sensitization.
Usage:
used externally. Use a small amount of liquid.
---