---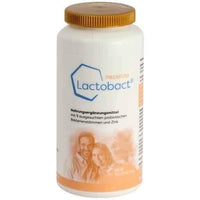 Sale
Lactobact ® PREMIUM capsules
Food supplement with 9 probiotic bacterial cultures and zinc

Lactobact PREMIUM, the probiotic for people from 8 years of age, from the quality leader HLH BioPharma contains 9 probiotic bacterial strains. The product contributes to the promotion of a balanced intestinal microbiota (intestinal flora). The intestinal microbiota supports the body in fighting off unwanted germs. The intact intestinal microbiome with its "bacterial lawn" prevents allergens and pathogens from entering the blood via the intestinal wall. Lactobact PREMIUM is also ideal for the prevention and treatment of classic digestive complaints, irritable bowel syndrome and food intolerance. The zinc it contains also supports the immune system. The probiotic microorganisms in Lactobact PREMIUM are protected by a vegetable coating, the so-called microencapsulation, Protected on a microscopic level from harmful gastric acids so that they can develop their full effect in the intestine. In the practical capsule form, it is easy to take. Due to the plant coating, people who cannot swallow capsules can also open the capsule, stir the capsule contents into liquid and consume it without loss of effectiveness.

LACTOBACT Premium Dietary supplements are no substitute for a balanced and varied diet and a healthy lifestyle.
LACTOBACT Premium Food supplements. The recommended daily intake must not be exceeded.

Dietary supplements are no substitute for a balanced, varied diet and a healthy lifestyle.

Keep away from children!
---