---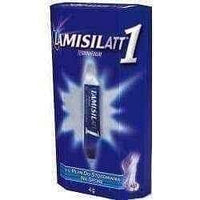 Sale
LAMISILATT 1% liquid 15g, athlete's foot treatment, terbinafine
Lamisilat (terbinafine) is intended for the one-stop treatment of athlete's foot (athlete's foot).
Composition:
1 g of liquid contains 10 mg of terbinafine (as hydrochloride) and excipients.
Action:
Lamisilat is fungicidal to foot fungus (athlete's foot). Foot mycosis only covers the feet. It often starts between the toes, but may also spread to the soles and toes of the feet. The most common type of foot fungus (athlete foot) causes cracking and peeling of the skin. These symptoms may also be accompanied by edema, blisters or ulceration, and often itching and burning sensation.
When applied to the feet, the drug forms on the skin a colorless film which gradually releases the active substance to the skin.
The antifungal action of the preparation begins immediately after its establishment. The condition of the skin should improve after a few days, but it may take up to 4 weeks before the skin becomes healthy again.
How to use LAMISILATT 1% liquid 15g, athlete's foot treatment, terbinafine:

The preparation is applied to both feet (even if the lesions are visible only on one foot) - use about half the contents of each tube to cover the skin. The drug should be applied evenly to the skin between the fingers, around the toes, the sole and the sides of the foot. Allow to dry for 1-2 minutes before applying the shoe. Do not wash your feet for the next 24 hours after applying Lamisilatt.