---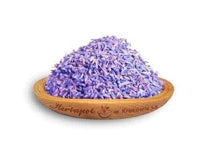 Sale
Lavender flower herbal tea is extremely aromatic and has a relaxing effect on both the body and mind. The infusion of lavender flowers helps to relax and is recommended to drink, especially at bedtime.
Lavender Flower Ingredients:
Lavender flower (Lavandulae flos) - 100%.
Nutritional value per 100g:energy value - 193kJ / 46kcal, fat - 0.9g, including: saturated fatty acids - 0.2g; carbohydrates - 8g, including: sugars - 5g; protein - 1.5g, salt - 0g.
Lavender flower action:
Aromatic infusion of lavender flowers is recommended for people who are looking for a natural way to relax the body and mind. Lavender flower herbal tea allows you to prepare an infusion with calming and soothing properties, which effectively relaxes. In addition, lavender supports a healthy, restful sleep. It also has a beneficial effect on digestion and the work of the digestive system.
Application:
Lavender flower herbal tea recommended for making infusions with a relaxing effect. Recommended for adults.

Additional information:
Store the product out of reach of children at room temperature. It is recommended to protect against the effects of moisture and light. A balanced diet and a healthy lifestyle are recommended.
Contraindications:
Do not use in case of hypersensitivity to any component of the product.
How to use the Lavender flower tea:
Drink the freshly prepared infusion 1-2 times a day. Preparation of the infusion: pour one teaspoon of the product (about 1.5 g) with boiling water (200 ml). Cover and brew for 15 minutes. Let the infusion stand for 10 minutes, then strain.
Net weight: 50g.
---