---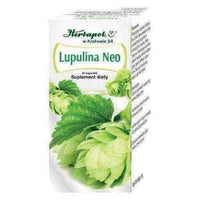 Sale
Hops plant, lupulin. Dietary supplement Lupulin Neo contains hops glands, or lupulin.

The calming properties of hops have been valued in herbal medicine for a long time, which is why they are the most commonly used plant ingredient in states of nervous tension.
Ingredients:
Lupulin (hops glands), capsule components: gelatin, dyes: titanium dioxide, iron oxides.
The content of lupulin (hops glands) in 2 capsules, or the recommended daily dose: 500mg.
Operation:
Hops has a calming effect, it is because of its help in maintaining peace is such a valued raw material. In addition, the hops are great as a support to fall asleep, and also allow healthy, strong sleep. The Lupulin Neo dietary supplement can also be used by women who suffer from menopausal symptoms (hot flashes, irritability, anxiety, night sweats) and people who want to keep their nervous system healthy.
Application:
Dietary supplement Lupulin Neo designed for use as a means of sedative and assisting sleep.
Additional information: The
dietary supplement can not be used as a substitute for a varied diet and a healthy lifestyle. Protect against moisture and light. Keep the product out of reach of children at room temperature.
Contraindications:
Do not use in case of hypersensitivity to any component of the supplement.
Directions for use:
Recommended daily dose: 2 capsules. Use one capsule twice a day. Drink with liquid. Do not exceed recommended servings for consumption during the day.
Net weight: 9.8g (30 x 326mg).