---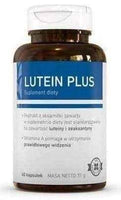 Sale
Standardized for the content of two precious substances - lutein and zeaxanthin, the velvet extract and vitamin A together form the composition of the Lutein Plus dietary supplement.

These components support the maintenance of correct vision.
Lutein Plus ingredients:
Capsule (gelatin, water, dyes - E 171, E 172), velvet extract (Tagetes erecta) standardized for lutein and zeaxanthin, vitamin A (retinyl acetate), filler - maltodextrin.
The content of ingredients in one capsule (recommended daily dose): velvet extract - 60mg (including: lutein - 12mg, zeaxanthin - 0.8mg), vitamin A - 800mcg (100% of the reference intake).
Lutein Plus action:
In the Lutein Plus diet supplement, a high quality velvet extract was used. It is standardized for the content of lutein and zeaxanthin, i.e. two carotenoids. Lutein supports proper vision and eye health. In addition, the composition contains vitamin A, which helps maintain proper vision and proper condition of mucous membranes.
Application:
Lutein Plus dietary supplement intended for use as a supplement to the daily diet in substances that help maintain correct vision.
Additional information: The
dietary supplement can not be used as a substitute for a varied diet and a healthy lifestyle. Keep the product out of reach of children at room temperature. Protect against light and moisture.
Contraindications:
Do not use in the case of hypersensitivity to any component of the dietary supplement. Do not use in pregnant women and in women during lactation.
How to use Lutein Plus capsules:
Recommended daily dose: one capsule. Drink with liquid. Do not exceed recommended servings for consumption during the day.
Net weight: 31g.