---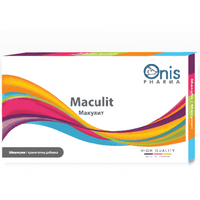 Sale
MACULIT is a dietary supplement for maintaining normal vision.
Specially developed combined formula containing: lutein, zeaxanthin, lycopene, alpha lipoic acid, bilberry extract, glutathione, taurine, zinc, selenium, vitamin A and vitamin E.
MACULIT Composition of 1 capsule:
Selenium 49.5 µg
Лутеин (Lutein) 12 mg
Zinc (Zinc) 10 mg
Vitamin E (Vitamin E - D - alpha tocopheryl acetate) 14.4 mg
Zeaxanthin 3.0 mg
Lycopene 5.0 mg
Bilberry extract 100 mg
Glutathione 4.0 mg
Alpha lipoic acid 50 mg
Taurine 75 mg
Vitamin A (Vitamin A) 200 µg
MACULIT Dosage:
For adults - 1 capsule per day. For optimal effect it is recommended to take from 3 to 6 months.
Do not use in case of hypersensitivity to any of the ingredients. Do not use by pregnant and lactating women.
Do not exceed the recommended daily dose. The product is not a substitute for a varied diet. Food supplement.
---