---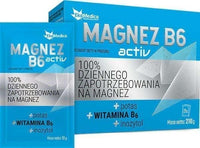 Sale
The preparation contains a well-absorbed form of magnesium, i.e. magnesium citrate. Dietary supplement Magnesium B6 activ is a preparation in the form of a lemon-flavored powder. It is recommended as a supplement to the daily diet with magnesium, potassium, inositol and vitamin B6.
Magnesium B6 activ ingredients:
Potassium (potassium gluconate), magnesium (magnesium citrate), inositol, powdered lemon juice, anti-caking agent: VEGESIL® - vegetable silicon dioxide (rice), natural citrus aroma, vitamin B6 (pyridoxine hydrochloride), blackberry leaf extract Chinese (Rubus Suavissimus) 0.05%.
The content of ingredients in one sachet (recommended daily dose):potassium - 600 mg (30% RWS), magnesium - 375 mg (100% RWS), vitamin B6 - 5 mg (375% RWS), inositol - 1.8 g.
RWS - reference intake value for an average adult (8400kJ / 2000kcal).
Action of Magnesium B6 activ:
The carefully composed composition of the Magnesium B6 activ dietary supplement combines not only magnesium and vitamin B6, but also potassium and inositol. One sachet, i.e. the recommended daily dose, provides 100% of the daily magnesium requirement. It should be added that the preparation uses magnesium citrate, which is an easily digestible form. Magnesium with potassium support the proper functioning of the nervous system as well as the proper functioning of the muscles. Additionally, magnesium supports the maintenance of electrolyte balance. Vitamin B6 helps to maintain proper protein metabolism and proper energy metabolism. Along with magnesium, vitamin B6 helps reduce fatigue and tiredness. Lemon flavored preparation.
Application:
Dietary supplement Magnesium B6 activ intended to be used to supplement the daily diet with magnesium, potassium, inositol and vitamin B6. Recommended for athletes and active people, for active seniors, as well as during periods of fatigue and energy decline and in periods of increased demand for magnesium.

Additional information:
A dietary supplement cannot be used as a substitute, i.e. a replacement for a varied diet. Maintaining a balanced diet and a healthy lifestyle is very important. Store the product out of reach of children, at room temperature. It is recommended to protect against moisture and light. The possibility of using it in pregnant and breast-feeding women should be discussed with your doctor.
Contraindications:
Do not use in case of hypersensitivity to any component of the dietary supplement.
How to use Magnesium B6 activ sachets:
Recommended daily dose: one sachet. Dissolve the contents of the sachet in lukewarm water, juice, yoghurt or other drink. Do not exceed recommended servings for consumption during the day.
Net weight: 210g (21 x 10g).
---