---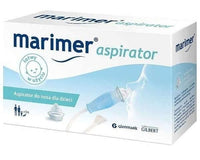 Sale
A quick and effective way to clean the baby's nose of residual secretions. Marimer Aspirator is a medical device that allows you to remove secretions from the nose and restores free breathing. Can be used in children from the first days of life.
The Marimer baby nasal aspirator set includes:
Nose tip - 1 pc., Tank - 1 pc., Tube - 1 pc., Tube connector - 1 pc., Mouthpiece - 1 pc.
Operation of the Marimer baby nasal aspirator:
The medical device Marimer aspirator effectively removes the residual secretion, thus restoring free breathing. It works well both in everyday nasal hygiene and in the case of a runny nose. It is a product recommended for use by infants and young children who cannot blow their nose on their own. The device is very easy to use and the special rounded tip ensures safe use. In addition, the tip is made of unbreakable plastic and can be sterilized.
Marimer baby nasal aspirator Application:
A medical device Marimer aspirator intended for use in cleaning the nose in children. Can be used from birth.

Additional information:
Store the product out of reach of children, at room temperature. It is recommended to protect against moisture and light. The tip can be sterilized at low or high temperature. Before use, check that the parts of the product are not damaged. Do not put in boiling water.
How to use the Marimer baby nasal aspirator:
Read the instruction manual before use. During the procedure, the child should be lying down and the child's head should be supported. Place the tip of the aspirator in the baby's nostril and place the mouthpiece in your mouth. Suck air gently through the mouth, the suctioned secretion will collect in the reservoir. Repeat with the other nostril. Saline may be dripped into the nose or an isotonic sea salt solution may be used to facilitate the removal of secretions. After use, wash the aspirator thoroughly with warm soapy water and rinse with clean water. The aspirator can be used as needed.
---