---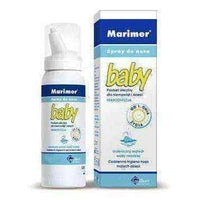 Sale
MARIMER NASAL SPRAY. Large economic package nasal spray Marimer baby. The formulation forms a sterile isotonic sea water. Spray is safe for children and infants, effectively cleanses excess mucus from the nose.
Composition:
100% sterile isotonic sea water.
Action:
Physiological solution of sea water Marimer baby can be used from the first days of life. The product is very hygienic and convenient to use. It can be applied in almost any position, depending on the preferences of the parents and the child. In addition, an innovative cap "Safety Tip" uniquely shaped ideal for small lugs is designed to prevent too deep insertion of the applicator. Comfort for the child also ensures that the flow of product coming out in the form of very fine mist. Nasal spray Marimer baby through mikroelementom and mineral salts contained in seawater (i.e., sulfur, copper, manganese,) not only perfectly supports the treatment of rhinitis, but works well in everyday hygiene nasal cavity.
Application:
Medical device Marimer baby nasal spray recommended for use in daily nasal hygiene. Suitable as a lubricant and as a preparation accompanying the treatment of infections of the upper respiratory tract. Suitable for use from the first days of life.
Additional information:
Does not contain preservatives. Keep out of reach of children, at room temperature.
Contraindications
not be used in case of hypersensitivity component solution. Do not use in premature infants.
Usage:
recommended to use one dose to each nostril, the application can be repeated 1-4 times a day depending on the necessity. Top arrange child in a position where we will be most convenient to carry out the application procedure preparation (sitting, standing or lying), then gently introduced to the applicator and nose spray. Repeat the same operation in the other nostril. Wipe off excess solution and secretions that has run down. You can be used every day for a long time.
---