---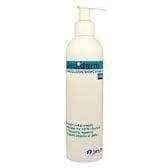 Sale
Mediderm Shower Shower-emulsion perfectly cleaned, and hydrates and it is intended for the care of diseased skin psoriasis, eczema and atopic dermatitis. Emulsion does not contain fragrances and dyes.
Ingredients:
Aqua, purificata, Isopropyl Myristate, Paraffinum Liqudum, Glycerin, Polysorbate 20, Sorbitan Laurat, Lanolin Oil, cetomacrogol 1000 Phenoxyethanol, Carbomer, Triethanolamine.

Action:
Mediderm Shower Emulsion shower, a cosmetic that gently cleans and cares at the same time even irritated and sensitive skin. The product has a natural, skin-friendly pH and does not violate the natural lipid coat of the skin. Emulsion Mediderm Shower, intended mainly for people with psoriasis, eczema and atopic dermatitis.

To use:
Apply to the skin and gently spread over the surface. After washing, rinse the body with water and pat dry with a towel to avoid rubbing. The product leaves the skin delicate
protective layer.