---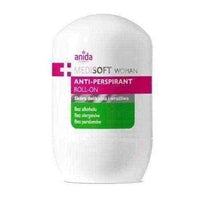 Sale
Best deodorant for women. MEDISOFT WOMEN Anti-perspirant roll-on supports the fight against excessive sweating and dramatically reduces the amount of sweat secretion and its unpleasant odor.

Works for up to 24 hours.
Composition:
Aqua, Aluminum Sesquichlorohydrate, PPG-15 Stearyl Ether, Steareth-21, Phenoxyethanol, DMDM ​​Hydantion, Parfum.
Action:
MEDISOFT WOMEN Anti-perspirant roll-on is a hypoallergenic cosmetic that is responsible for the effective reduction of excessive sweat glands activity. Absorbs odor at the place of application (for up to 24 hours!). Very quickly absorbed and does not leave on the skin the impression of greasy, and moreover do not stain clothes. It refreshes for a long time and contributes to maintaining proper skin pH. MEDISOFT WOMEN Anti-perspirant roll-on is a convenient product. Restores comfort and does not irritate sensitive and delicate female skin. Its composition does not include alcohol, allergens and parabens (the most common cause of various types of skin lesions).
Contraindications:
- Hypersensitivity to the components of the product
Indications:
Antiperspirant is recommended for use in delicate and sensitive women who suffer from excessive sweating (usually within the armpits).
Usage:
Apply externally. Cosmetic should be spread on cleansed and dried skin where excess sweat glands (especially armpits) are present. It is recommended to use the product daily.