---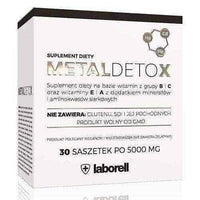 Sale
Metal detox. Pollution of the environment has a great influence on the state of the organism deposited in the heavy metals, and further free radicals damage the cells. Support for the body may be a dietary supplement Metaldetox in powder form for reconstitution.
Ingredients:
Fructose, acerola (Malpighia punicifolia, malt dextrin from corn, ascorbic acid) Fruit dry extract 50% Vitamin C, L-methionine, L-cysteine, aroma, citric acid, anti-caking agent silicon dioxide, zinc citrate, beta-carotene (beta-carotene, soy protein, glucose syrup, an antioxidant, DL-a-tocopherol and ascorbyl palmitate, anti-caking agents: tricalcium phosphate), ethyl DL-alpha-tocopherol (vitamin E, starch octenyl and sodium, gum arabic, sucrose) nicotinamide (niacinamide), retinyl acetate (vitamin A, starch, sucrose, thickener gum arabic, the antioxidant DL-alpha-tocopherol, anti-caking agents: tricalcium phosphate), D-calcium pantothenate (vitamin B5), citrate magnesium, coenzyme Q10 pyridoxine hydrochloride (vitamin B6), riboflavin (vitamin B2), thiamine hydrochloride (vitamin B1), pteroil-monoglutammico acid (folic acid), sodium selenite, cyanocobalamin (B12).
The content of ingredients in one sachet (5g, recommended daily intake): L-methionine - 100 mg L-cysteine - 100 mg, vitamin C - 60 mg (75% RDA), zinc - 15 mg (150% RDI), beta-carotene - 4 5mg vitamin E - 10mg (83.30% RDA), niacin - 18mg (112.5% RDA), vitamin A - 800mcg (100% RDA), pantothenic acid - 6 mg (100% RDA), coenzyme Q10 - 2, 5 mg, vitamin B6 - 2 mg (142.8% RDA), vitamin B2 - 1,6mg (114.28% RDA), vitamin B1 - 1,40mg (127.27% RDA), folic acid - 200 mcg (100% RDA ), selenium - 60mcg (109% RDA), vitamin B12 - 1mcg (40% RDA), dry extract of acerola fruits - 120mg.
RDA - recommended daily allowance.
Action:
accumulated heavy metals in the body effect of increasing amounts of free radicals, which are responsible for the aging of the organism and the development of many diseases, including cancer. Contained in the food supplement composition of vitamins Metaldetox - both water-soluble as well as those soluble in fats has been supplemented precious the acerola extract and the sulfur amino acids, minerals and coenzyme Q10. Preparation first support normal metabolism (B1, B2, B12, C, niacin, pantothenic acid), the second contributes to the proper functioning of the nervous system (folic acid, pantothenic acid, B1, B2, B6, B12, C). Thirdly, helps to protect cells against oxidative stress (selenium, B2, C, E). In addition, the zinc contained in the preparation has a beneficial effect on the metabolism of bases and acids. Niacin helps maintain healthy skin and mucous membranes, it is also important for the functioning of the nervous system and for reasons of psychological function. Pantothenic acid is involved in the synthesis and metabolism include vitamin D, steroid hormones and neurotransmitters, therefore, the formulation may take the people who complain of fatigue, and poor concentration. Application of the food supplement Metaldetox support the functioning of the nervous and circulatory (B1, B2, B6, B12) and the resistance (folic acid, vitamin C).
Application:
Dietary supplement Metaldetox intended to be used as a support for antioxidant protection. Web poisoning amalgam. This product is intended for adults. Suitable for vegans and vegetarians.
Additional information:
Food supplements should not be used as a substitute for a varied diet and a healthy lifestyle. Keep out of reach of children, at room temperature. Protect from moisture and light. Does not contain gelatin, ingredients genetically modified (GMO). It contains raw materials derived from soybeans. Pregnant and breastfeeding women should consult a physician before using the supplement.
Contraindications
not be used in case of hypersensitivity to any component of the supplement.
Usage:
The recommended daily dose one sachet. To the glass to move the sachet, add water and stir until completely dissolved. Consumed directly after preparation of the beverage. Do not exceed recommended servings for consumption during the day.
Net Weight: 150g (30 x 5000mg).