---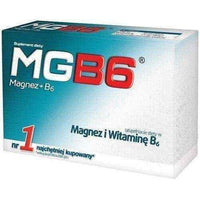 Sale
MGB6  x 30 tablets, magne b6
The magnesium deficiency and vitamin B6 will Mg B6 supplement comprising magnesium lactate is easily absorbed. Reduce the unpleasant symptoms of deficiency of this element and support the nervous system.
MGB6, magne b6 Composition:
magnesium lactate, microcrystalline cellulose (filler), cross-linked sodium carboxymethyl cellulose (filler), magnesium stearate (glazing agent), pyridoxine hydrochloride.
Action:
Magnesium plays a very important function in the body, along with vitamin B6 is involved in the maintenance of normal energy metabolism. The proper functioning of the nervous system depends on adequate levels of magnesium in the body, because it reduces tiredness and fatigue, also retains the psychological functions such as concentration and memory processes. The unique combination of magnesium and pyridoxine prerequisite for the maintenance of electrolyte balance, also regulates muscle tension, which prevents cramps.
MGB6, magne b6 Applications:
Dietary supplement recommended in deficiency of magnesium and vitamin B6. Especially helpful during strenuous physical or mental, and in the period of intensive growth.
Additional MGB6, magne b6 information:
Do not use in case of hypersensitivity to any component of the product.
1 tablet contains 60 mg of magnesium (16% of the recommended daily intake), 1,4mg of vitamin B6 (100% of the recommended daily intake).
MGB6, magne b6 Usage:
For oral use. In adults, it is recommended to take 1 tablet a day. Do not exceed the recommended daily dose.
---