---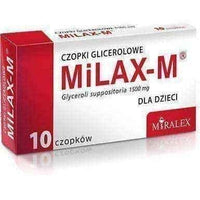 Sale
Glycerol suppositories Milax-M with a high content of glycerin laxative work, facilitating bowel movement, which is why they are particularly recommended for constipation. The preparation is intended for adults.
Composition:
Glycerol stearate, sodium stearate and sodium bicarbonate. Contents Glyceroli Suppositoria - 2500mg.
Action:
One of the most effective ways for constipation are glycerol suppositories. Glycerol contained therein rectally applied topically irritating, which stimulates peristalsis of the intestines. In addition, suppositories loosening stool and increasing its slip, facilitate defecation.
Use:
A medical device Milax-M glycerol suppositories indicated for constipation. Intended for adults.
Additional information:
Keep out of reach of children, at room temperature.
Contraindications
not be used in case of hypersensitivity to any component of the formulation. Do not use in case of acute abdominal pain, and other pain of unknown cause.
Usage:
Suppository enter the rounded end to the rectum. It is recommended to introduce it as deep as possible. Recommended dose: 1-2 suppositories.