---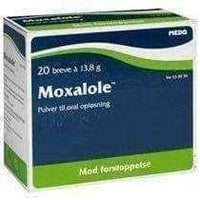 Sale
Constipation remedies. MOXALOLE is a product which has laxative properties. Irreplaceable in case of constipation.
Ingredients:
1 sachet contains polyethylene glycol 3350 13,125g; sodium chloride 350,7mg; 46,6mg potassium chloride; sodium bicarbonate 178,5mg.

Action:
The preparation is characterized by a complex composition, which is responsible for the occurrence of laxative properties. Checks during treatment of digestive disorders such as constipation.

Contraindications :
- allergic to the ingredients
- ileus
- intestinal perforation
- severe inflammatory bowel disease
- younger than 12 years

Indication
used for constipation.

Dosage:
Administer orally. In the case of constipation use sachet 1 x 1-3 / 24, and the wedge stool sachets 8/24 (within 6 hours). Sachet dissolved in 125ml of water.