---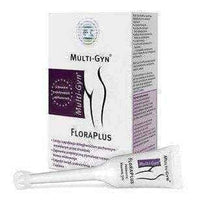 Sale
Multi gyn flora plus MULTI-GYN FLORAPLUS is a product acting antifungal and soothing itching, burning and discharge. MULTI-GYN FLORAPLUS Moisturizing, regenerating and discreetly. Restores proper pH intimate spheres.
MULTI-GYN FLORAPLUS Composition:
galactoarabinan polyglucoronic acid crosspolymer, monosaccharides, amino acids, vitamins.
Action MULTI-GYN FLORAPLUS:
product is a bio-active gel. A complex called 2QR (bio-active polysaccharides), and is a source of prebiotic substances (supporting the maintenance of the bacterial microflora). 2QR component exhibits anti-growth of pathogenic microorganisms.Prebiotics promote the growth of lactic acid bacteria (Lactobacillus) present in the vagina. In this way there is an increase in the number of lactic acid bacteria of own (without the need to introduce extraneous bacterial strains) and normalization of microflora, which helps mitigate annoying itching, burning and vaginal discharge.They block the growth of fungi. Just use the treatment lasted five days to restore comfort intimate spheres.
MULTI-GYN FLORAPLUS Contraindications:
- Hypersensitivity to the active components of the product
Indications MULTI-GYN FLORAPLUS:
It is recommended to use the product for the treatment and prevention of infections caused by the presence of yeast.
How to use:
Apply topically, vaginally. During treatment of vaginal diseases caused by Candida vaginal use one tube at bedtime for the next five days. In the context of the prevention of vaginal infections (such as remitting fungal infections), and for restoring the vaginal microflora vaginal use one tube once every three days.
---