---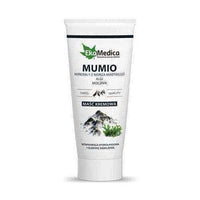 Sale
Mumiyo. The product, which will provide deep hydration and lipid balance - Mumio ointment cream!

The unique properties of a substance called regenerating Mumio was combined with urea in it, algae and minerals from the Dead Sea.
Ingredients:
Aqua, Urea, Cetostearyl Alcohol, Glycerin, Glyceryl Stearate SE, Isopropyl palmitate, ceteareth-20, Phenoxyethanol, Cyclopentasiloxane, Paraffinum Liquidum, Parfum, Carbomer, BHT, Tocopheryl Acetate, Algae Extract, Amber (Succinum) Extract, Ethylhexylglycerin, Citric Acid, Triethanolamine, Hexyl Cinnamal, Limonene, Citronellol, Coumarin, Dead Sea Salt, Mumio asphaltum Punjabinum Extract.
Action:
Strong regenerative characteristic that abstracted from difficult mountainous areas in Asia substance - Mumio. Ointment cream Mumio accelerates the regeneration of the skin, and with an addition of a Dead Sea minerals, algae extract and urea deeply moisturize and condition. It reduces the feeling of tension and itching. In addition, the formulation soothes and helps to maintain an optimal level of skin hydration.
Function:
Color cream Mumio recommended for use in case of excessive dryness of the skin, itching and revealing feeling tension.
Additional information:
Keep out of reach of children, at room temperature. Dermatologically tested and aplikacyjnie.
Contraindications
not be used in case of hypersensitivity to any component of the formulation. Do not use around the eyes, irritated skin and mucous membranes.
Usage:
For external use. Spread on a clean and dried skin. Massage a small amount of ointment is completely absorbed. Apply morning and evening. The effectiveness of the preparation can be improved by regular application.