---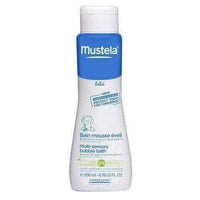 Sale
MUSTELA Bebe bubble bath "Bubble bath" for newborns, infants and children. For sensitive skin of newborns, infants and children. No age limit.
Action:
A natural extract from cornflower soothes the skin and prevents it from drying out.
The fluid leaves the skin soft and smooth.
It does not irritate the eyes and does not cause their tears (pH the same as the pH of tears).
Velvety foam, blue color and delicate scent Must, as well as preparation formula based on the basis of micronutrients stimulates the senses of the child: touch, sight and smell, contributing to his good well-being and development.
How to use:
Pour a small amount of liquid bath under running water.
After the bath, rinse thoroughly.
---