---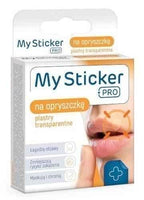 Sale
Patches for herpes. An effective way of treating herpes labialis in the form of transparent patches with hyaluronic acid. My Sticker Pro herpes patches create a protective barrier in the affected area and accelerate the healing process.
Composition of My Sticker Pro herpes patches:
Polyurethane film with a water-based acrylic adhesive layer containing hyaluronic acid.
Action My Sticker Pro patches for herpes:
The mechanical protective barrier formed by the patch protects it from external factors and accelerates its healing process. My Sticker Pro herpes patches support bubble healing, ensuring proper conditions and optimal moisture levels. The patches relieve itching, burning and tingling sensations. In addition, they counteract the formation of scabs and scars, reduce the risk of virus spread and the risk of bacterial infection. Hyaluronic acid contained in the patches has a moisturizing effect. The product masks the symptoms of herpes labialis, ensuring discretion and comfort. Packaging equipped with a mirror.
Application:
Medical device My Sticker Pro herpes patches for use in the treatment of herpes labialis caused by the Herpes simplex virus.
Additional information:
Store out of reach of children at room temperature. It is recommended to protect against moisture and light. Disposable product, do not reuse because of the risk of infection spreading. Do not swallow. The product does not contain latex. Does not contain acyclovir. Not suitable for the treatment of genital herpes.
Contraindications:
Do not use in case of hypersensitivity to any component of the product. Do not use inside the mouth and on the mucosa.
How to use My Sticker Pro herpes patches:
For external use only. Do not stick to the place smeared with cream, it hinders proper sticking of the patch. Wash your hands thoroughly before applying the patch and after completing this operation. The application site should be clean and dry. Apply the patch as instructed on the package. After removing the patch, immediately apply a new one. Use from the first symptoms (itching sensation) until the symptoms of herpes disappear. If, after 10 days of using the patches, the symptoms persist or get worse, you should consult your doctor.