---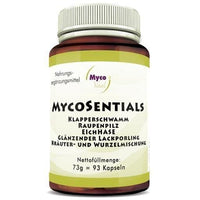 Sale
MYCOSENTIALS capsules, medicinal mushrooms Maitake, Cordyceps, reishi 
The special mixture for a conscious diet with medicinal mushrooms Maitake, Cordyceps, reishi.
Obesity has meanwhile become one of the greatest social problems of modern societies. According to a study by the International Association for the Study of Obesity (IASO), 75% of men and 59% of women in Germany are overweight. Thus Germany occupies a regrettable top position in Europe in this regard. Overweight can develop into the so-called lifestyle diseases such as diabetes, cardiovascular diseases and other serious diseases in the medium and long term.
The formula for weight loss is well known. Lots of exercise and a healthy and balanced diet.
As part of a healthy diet, it is not just the amount of nutrients to be taken into account that has to be kept in mind. It must also be ensured that the body continues to be adequately supplied with proteins, vitamins, minerals, trace elements and fiber.
MycoSentials contains a large number of valuable ingredients which, in their combination, are particularly suitable for helping you lose weight. This unique herb and root mixture is rounded off with our medicinal mushrooms Maitake, Cordyceps, Polyporus and Reishi.
Dietary supplements medicinal mushrooms Maitake, Cordyceps, reishi  are no substitute for a balanced and varied diet and a healthy lifestyle.
---