---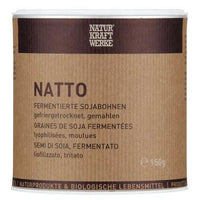 Sale
NATTO fermented soybean powder 150 g
freeze-dried, ground in roll-top can.
Natto Fermented Soybean Powder
freeze-dried, ground in a tin.

Our natto is freeze-dried and finely ground. The fermented, protein-rich soybeans are a traditional Japanese food. Natto is eaten in Japan for breakfast, often with rice and fish. Cooked beans are infected with the bacterium Bacillus subtilis ssp. natto inoculated and fermented at room temperature for up to a day. The enzyme nattokinase is produced during fermentation. The nutrient-rich natto powder can be sprinkled over ready meals and sauces or mixed into smoothies and vegetable cocktails. Natto goes well in quark, yoghurt, soups or in experimental creations. The smell of natto is a treat for connoisseurs, but it can also take some getting used to. Pure natto develops a pleasant, slightly spicy taste in the mouth.