---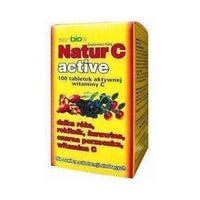 Sale
NATUR C ACTIVE is a natural supplement that supplements the body's level of vitamin C, which strengthens the immune system and blood vessels and acts as an antioxidant.
Composition:
1 tablet: Rosehip (fruit) 189mg, vitamin C 158,5mg, Rokotnik (extract) 7mg, cranberries (extract) 7.5 mg, blackcurrant (extract) 5mg, microcrystalline cellulose 107,5mg, carbon krzemu- binder 15mg, stearic acid - anti-caking agent 10.5mg; Energy: 132kcal / 100g, 563kj / 100g; Nutritional value per 100g: protein 3.7g, carbohydrate 12.2g, lipid 2.5g

Action:
The preparation belongs to a wide category of complex dietary supplements, which are characterized by their natural composition. Thanks to the plant extracts is a rich source of vitamin C stimulating natural defenses of the body, limiting fatigue, helping to regenerate collagen and acting as an antioxidant. In addition, it strengthens and seals the blood vessels.

Indications:
It is recommended to use the preparation to supplement the body's vitamin C level to strengthen the body and its resistance and delay the aging process.

Dosage:
Oral use. For prevention take 1 table / 24h, and with vitamin C deficiency use 1-3 tables / 24h.