---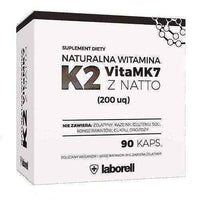 Sale
Natural Vitamin K2. Searching for a formulation containing vitamin K should be taken that the form in which it occurs. The best is vitamin K2 MK7, can be found in the dietary supplement natural Vitamin K2 200mcg VitaMk7 of Natto brand Laborell.
Ingredients:
Bulking microcrystalline cellulose, vitamin K2 (VitaMK7).
The content of vitamin K2 in one capsule: 200mcg (250% of the reference intakes).
Action:
Natto, fermented soybeans that is a delicacy from Japan, why is it so important? This source of natural Vitamin K2 MK7. This form assimilates much better and is better utilized in the body. Dietary supplement Natural Vitamin K2 200mcg VitaMk7 Natto contains the highest quality form of the substance VitaMk7, in addition to high amounts - 200 mcg in each capsule. Taking vitamin K is particularly important for maintaining healthy and strong bones.

Application:
Dietary supplement Natural Vitamin K2 200mcg VitaMk7 from Natto intended to be used as a supplement to your daily diet with vitamin K is designed for adults. Suitable for vegans and vegetarians.
Additional information:
Food supplements should not be used as a substitute for a varied diet and a healthy lifestyle. Keep out of reach of children, at room temperature. Should be protected from moisture and indeterminately. The capsules do not include casein, gelatin, gluten, preservatives, sugar, salt, yeast.
Contraindications
not be used in case of hypersensitivity to any component of the supplement.
Usage:
The recommended daily dose: 1 capsule. Take a meal, drink water. Do not exceed recommended servings for consumption during the day.
Net weight: 29,7g (90 x 330mg).