---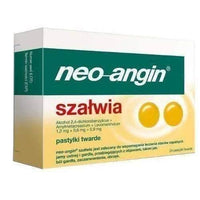 Sale
NEO-Angin sage contains substances that have an antiseptic, antibacterial and analgesic. Agent specifically indicated in the course of inflammation of the mouth and throat coexisting with pain, redness and swelling.
Composition:
1 tablet contains the active substances: 2,4-dichlorobenzyl alcohol 1.2 mg, 0.6 mg amylmetacresol, levomenthol 5.72 mg and ingredients: oil of anise, peppermint oil, maltitol (lycasin), tartaric acid , cochineal red A (E124).
Action:
The preparation is characterized by a complex composition.Topically applied has bactericidal activity against Gram-positive and Gram-negative bacteria which cause infections in the mouth and throat. It also exhibits antifungal properties against fungi causing thrush. A local anesthetic.
Indications:
It is recommended to use alternative, during the therapeutic treatment of inflammation of the mouth and throat, accompanied by symptoms such as sore throat, redness, edematous states.
Dosage:
For suction. For adults and children over 6 years of age take 1 tablet every 2-3 hours. Do not take more than 6 tablets / 24.
---