---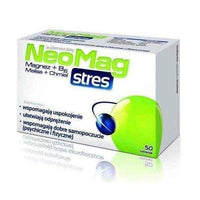 Sale
NEOMAG STRESS x 50 tablets, depression
Neomag Stress contains a composition of magnesium, vitamin B6, an extract of the herb lemon balm extract and hops.

All the ingredients contained in the composition Neomagu stress, help maintain a good mood and the proper functioning of the nervous system
NEOMAG STRESS, depression Ingredients:
magnesium carbonate, microcrystalline cellulose (bulking), an extract of the herb lemon balm extract, hops, hydroxypropyl methylcellulose (glazing agent), silicon dioxide (anti-caking agent), magnesium stearate (glazing agent), titanium dioxide (pigment), hydroxypropyl cellulose ( glazing agent), pyridoxine hydrochloride, beeswax and carnauba wax (glazing agents).
Components

1 tablet

Magnesium

60 mg (16%) *

Vitamin B

6

1.4 (100%) *

An extract of the herb lemon balm

60 mg

Extract of hops

40 mg
*% Recommended daily intake.
NEOMAG STRESS, depression Action:
Neomag Stress, a formulation which contains magnesium and vitamin B6, which help the aforementioned proper functioning of the nervous system and the maintenance of normal psychological function. In addition, the preparation that has been enriched with an extract of the herb lemon balm and an extract of hops that support relaxation and physical and mental well-being.
Application NEOMAG STRESS, depression: Neomag Stress, a formulation which promotes sedation, facilitates relaxation and wpomaga well-being (physical and mental)
Directions for use NEOMAG STRESS, depression: Adults: 1 tablet daily
---