---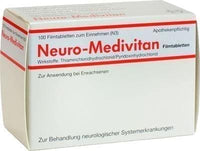 Sale
NEURO MEDIVITAN film-coated tablets
Package leaflet: Information for the user
Neuro-Medivitan, 100 mg , 100 mg , film -coated tablets
Active ingredients: thiamine chloride hydrochloride / pyridoxine hydrochloride
For use in adults.
Read all of this leaflet carefully before you start taking this medicine because it contains important information for you.
What should you know before taking Neuro-Medivitan?
Neuro-Medivitan must not be taken
if you are allergic to thiamine chloride hydrochloride, pyridoxine hydrochloride or any of the other ingredients of Neuro-Medivitan listed in section 6.
Warnings and Precautions
Talk to your doctor or pharmacist before taking Neuro-Medivitan.
Other medicines and Neuro-Medivitan:
Tell your doctor or pharmacist if you are taking / using, have recently taken / used or may take / use any other medicines.
Therapeutic doses of vitamin B6 can reduce the effects of L-dopa. Further interactions exist with INH, D-penicillamine, cycloserine.
Neuro-Medivitan with food and drink
So far there are no known interactions with food and beverages.
pregnancy and breast feeding period
If you are pregnant or breastfeeding, this medicine is only useful for treating a proven vitamin B1 and B6 deficiency due to the amount of active ingredients it contains . For this reason, you should only take Neuro-Medivitan after a careful risk / benefit assessment by the attending physician. During pregnancy and breastfeeding, the recommended daily intake for vitamin B1 is 1.4-1.6 mg and for vitamin B6 2.4-2.6 mg . The safety of taking doses higher than the daily recommended dose has not yet been proven.
Vitamins B1 and B6 pass into breast milk. High doses of vitamin B6 can inhibit milk production.
Driving and using machines
There are no special precautions required.
Neuro-Medivitan contains lactose
Therefore, please only take Neuro-Medivitan after consulting your doctor if you know that you suffer from an intolerance to certain sugars.
---