---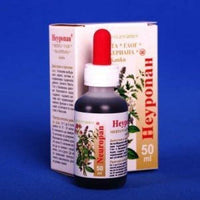 Sale
NEUROPAN drops 50 ml.

NEUROPAN drops Application and action:

Calms the excited nervous system;
Normalizes the activity of the heart.
The herbs Valerian, Mint and Hawthorn have a beneficial effect on the cardiovascular system, normalize its functions and increase the body's resistance to insomnia and stress.

NEUROPAN drops Ingredients:
Contents of the recommended daily dose:

Valerian - 150 mg;
Mint - 150 mg;
Hawthorn - 200 mg.
How to use:
Take 1-2 times a day for 10 - 20 drops. You will find a dosing dropper in the package.
Maximum daily dose - 40 drops.
If desired, it can be taken with water, milk, juice or other beverages.
Do not exceed the recommended maximum daily dose!

Attention:
The product is a food supplement.
It does not replace a complete and varied diet.
Not recommended for children under 12, as well as for pregnant and lactating women.

NEUROPAN drops Storage:
Keep out of reach of children at a temperature below 25 ºС.

Packaging: 50 ml.

Manufacturer: Panacea 2001, Bulgaria.

---