---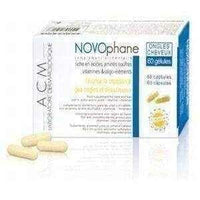 Sale
NOVOPHANE is a natural dietary supplement that provide nutrients the body has a positive effect on the condition of skin, hair and nail by significantly enhancing their appearance.
NOVOPHANE Composition:
2 capsules: Cystine 200 mg Methionine 200 mg, vitamin C (ascorbic acid) 60 mg Vitamin E (tocopherol) 10 mg vitamin B5 (pantothenic acid), 6 mg, vitamin B6 (pyridoxine) 2 mg, vitamin B2 ( riboflavin) 1.6 mg vitamin H (biotin) 150 mcg iron 14 mg, zinc 10 mg, magnesium 57 mg.
Action NOVOPHANE:
The preparation NOVOPHANE belongs to the broad category of complex dietary supplements. It includes essential for the proper functioning of the body substances. Biotin is involved in the metabolism of amino acids and fatty acids, prevents brittle nails and split ends of hair. L-methionine and cystna belong to the group of sulfur amino acids that help maintain the structure of the hair and nails. Zinc acts smoothes the skin and stimulates the processes responsible for its regeneration. Iron prevents anemia associated with her ​​hair loss.Vitamin C and E have antioxidant properties, protecting the body against the effects of free radicals and delaying the aging process.
NOVOPHANE Indications:
Use the preparation in order to strengthen hair and nails. Especially in the case of fragility and brittleness of the nail plate, splitting and excessive hair loss.
Dosage NOVOPHANE:
For oral administration in a dose of 2 kaps./24h at the time of eating for at least eight weeks.