---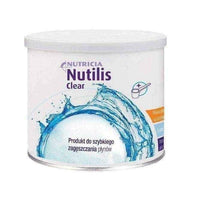 Sale
Dysphagia, trouble swallowing, difficulty swallowing. Nutilis clear powder. Dysphagia is a disorder that makes swallowing difficult, so people who suffer from it must take foods with a certain consistency.

Ideal as a thickener for beverages and dishes, Nutilis clear powder will work.
Ingredients:
Maltodextrin, xanthan gum, guar gum.
Nutritional value for 100g of the product: energy value - 1230kJ / 290kcal; fat - 0g, including: saturated fatty acids - 0g; carbohydrates - 57.6g, including sugars - 10.9g; fiber - 28g; protein - 0.8g; salt - 3.8g; sodium - 1500mg; potassium - 40mg; chlorine - 30mg; calcium <20mg; phosphorus - 50mg, magnesium <20mg.
Nutritional value for 1 portion (3g of product): energy value - 8.7kcal, carbohydrates - 1.73g, fiber - 0.84g.
Action: A
product that thickens food and drinks for people struggling with dysphagia. Nutilis clear powder contains fiber, which has a positive effect on digestive processes. The advantage of the preparation is that it does not change the taste, smell and transparency of meals and the fact that it is resistant to salivary amylase, thanks to which the desired consistency of the food is preserved. The powder causes rapid thickening of the food.
Application:
Dietary food for special medical purposes Nutilis clear powder recommended in dietary treatment in people with dysphagia (difficulty in swallowing), designed exclusively for thickening food.
Additional information:
Free from gluten and lactose. Consume within 2 months of opening. Can be used by vegetarians.
Contraindications:
Do not give to children under 3 years of age. Carefully use people on a low sodium diet. The product is not suitable for parenteral administration and as the only source of food.
Directions for use:
Measure only with the help of the provided measuring cup. Use under medical supervision. Add the product to drinks or blended meals. The dose depends on the degree of dysphagia: up to 200ml of water, drink or mixed food add 1 scoop in case of light dysphagia (syrup consistency), 2 scoops in moderate dysphagia (cream consistency), 3 scoops in severe dysphagia (obtained consistency of pudding). After preparation, consume within 2 hours.
Net weight: 175g
---