---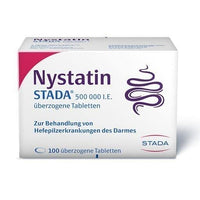 Sale
NYSTATIN STADA 500,000 IU tablets 100 pc nystatin  yeast infections
nystatin  yeast infections, Nystatin STADA ® 500,000 IU coated tablets 50 pc yeast infections

Active ingredient: Nystatin

For topical intestinal treatment of proven nystatin-sensitive yeast infections, especially as a result of therapy with antibiotics, cytostatics or corticosteroids. Contains glucose, lactose and sucrose (sugar).

For nystatin  yeast infections information on risks and side effects, read the package insert and ask your doctor and pharmacist.

STADAPHARM GmbH, Stadastraße 2-18, 61118 Bad Vilbel
Status: May 2021

Nystatin STADA ®  500,000 IU coated tablets against yeast infections of the intestine
• Use with proven nystatin-sensitive yeast infections
• Antimyotikum for topical treatment intestinal
• taking 3 times daily one tablet

package contents
20 coated tablet
50 pieces coated tablet
100 pieces coated tablet

To see the effect of Nystatin STADA ® 
The active ingredient of Nystatin STADA ®  is Nystatin. One coated tablet contains 500,000 IU (International Units) of the active ingredient. Nystatin supports the body in fighting fungi from the Candida group by destroying the cell wall structure. The nystatin forms pores and thus makes the cell wall permeable. As a result, the metabolism of the fungal cell is impaired and it dies.

On the type of application of Nystatin STADA® 
Nystatin STADA ® is used  for yeast infections sensitive tonystatin, especially if the infections occur as a result of antibiotics, cytostatics or corticosteroids. The immune system can be weakened by one of these therapies, which means that the body cannot protect itself against foreign pathogens such as fungi. The usual dose is one tablet three times a day, in severe cases up to three times a day two tablets. It is recommended that the tablets be taken with sufficient liquid after meals.

The preparation should be taken for about two weeks. Treatment should be continued for a few days even after the infection has healed completely. A doctor or pharmacist should be consulted if the effect of the drug is too strong or too weak.

What when taking Nystatin STADA ®  to note is
Before taking Nystatin STADA ®  hypersensitivity or allergic reaction to nystatin or a related drug such as amphotericin B or natamycin should be clarified. The preparation also contains glucose, lactose and sucrose. If you are intolerant to certain types of sugar, it is therefore not advisable to take the drug.

In addition, treatment with the drug is not recommended in newborns, infants and young children. Difficulty swallowing may occur during use.

Frequently asked questions
Are there any interactions with other drugs?
There  are no known interactions of Nystatin STADA ® with other medicinal products.

Is treatment with Nystatin STADA ® possible  during pregnancy and breastfeeding?
Nystatin STADA ® can be used  to treat nystatin- sensitive yeast infections both during pregnancy and while breastfeeding .

What should be done with the treatment if a dose has been missed?
If Nystatin STADA ®  is missed, a double dose should be avoided with the next intake.

Is it possible to drive while taking Nystatin STADA ®  ?
Effects of treatment with Nystatin STADA ®  on the ability to drive are not known.
NYSTATIN STADA 500,000 IU tablets 100 pc nystatin  yeast infections
---