---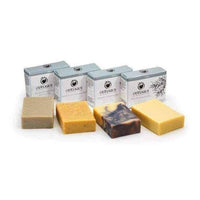 Sale
Odylique Soap in the tea tree and green clay cubes mildly cleanses the skin and thoroughly removes dirt.

It has antibacterial and moisturizing properties.

Clearly softens the skin.
Ingredients:
extra virgin olive oil *, beeswax *, tea tree leaf oil *, green clay.
*) grown and produced organically (100% of the product).
- 100% natural fragrance
- no parabens,
- no glycol,
- no artificial colors
- no silicone
- no Phenoxyethanol
- no PEG and SLS
- no GMO
- physiological pH
- hypoallergenic
Action:
Soap belongs to a wide group of ecological cosmetics, made of natural ingredients. Made of organic olive oil extra virgin, which is a source of protective vitamins A, D and E. Thanks to them it effectively moisturizes, softens and regenerates the skin. It has antioxidant properties. It contains beeswax that makes the skin moisturized and extremely soft. Incorporating tea tree oil and green clay contribute to the deep cleansing of the skin. They fight bacteria and fungi. They regulate the production of sebum. Glycerin has a moisturizing effect. Soap does not contain detergents and therefore foams less than other products of this type. However, it is characterized by a milder washing action.
Indications:
Use soap for cleansing the face, hands and the whole body. Recommended for use in men.
Directions for use:
Use externally. Soak the face, body or hands, then rinse thoroughly. Use if necessary.
Certificates:
Not tested on animals.
Suitable for Vegan
FairTrade
Soil Association Organic Standard
---