---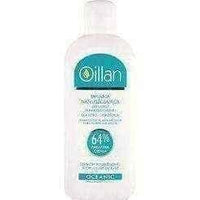 Sale
OILLAN Olive oil emulsion for dermatological bath.

Liquid paraffin forms a coating on the stratum corneum of the epidermis, preventing excessive evaporation of water from its surface, thereby providing it with adequate humidity and level of greasing.
Softens the epidermis and soothes irritation while gently washing the skin.
The emulsion is recommended for alleviation of irritated, dry, itchy and flaky skin, as well as for sensitive and allergic skin of children and adults.
It is designed especially for people with diseases accompanied by skin dryness, among others. Psoriasis, atopic dermatitis and scaly fish.
The emulsion has a neutral scent. Does not leave sludge on the bathtub.
Has a positive opinion of the Child Health Center. It is intended for daily skin care of infants over 6 months of age, and in dermatologically justified cases - over 1 month of age.

Oillan Dermocosmetics do not contain fragrances, preservatives and colorants, which are well tolerated by the skin and can also be used by people with sensitive skin.

Composition:
Liquid paraffin 64%