---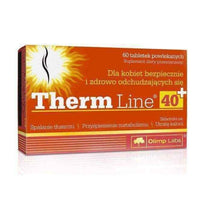 Sale
OLIMP Therm Line 40+ is a dietary supplement that helps in reducing body fat.

It stimulates metabolism, promotes thermogenesis and reduces the level of glucose in the blood and acts as a stimulant on the body.
Composition:
2 tablets contain: green tea extract 210mg, 200mg extract of ginger, cayenne pepper extract 140 mg, guarana extract 30mg, 20mg sinetrol, green coffee extract 10mg, 10mg extract of cinnamon, chromium 40mcg, caffeine 7,2mg.
Action:
Dietary supplement is characterized by a complex composition. It includes extract of cayenne pepper, which contains capsaicin responsible for the intensifying thermogenesis and fat oxidation and reduction in calories. Green tea extract is a rich source of EGCG, favorably affects the body's metabolism and helps maintain the desired weight. Ginger helps keep the cardiovascular system in good condition. Chromium regulates blood glucose levels and reduces appetite. Extract of guarana and caffeine act stimulates the body, increasing its capacity psychophysical.
Contraindications:
- allergic to ingredients
- breastfeeding
- pregnancy
- diseases of the cardiovascular system, including hypertension
Indications:
It is recommended to use the product within the framework of supporting the process of weight loss, as an adjunct to diet and physical activity.
To use:
Apply orally at a dose of 1 tablet. x 2/24, for about half an hour before a meal (breakfast or lunch) or physical activity. Drink plenty of water.Take over a period of 2-3 months.
---