---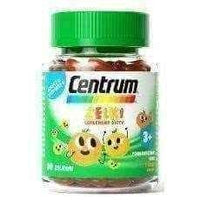 Sale
Orange jelly beans with vitamins and minerals.

Dietary supplement Centrum Gummies is recommended as a supplement to the daily diet of children over 3 years of age in important for the proper functioning of the body ingredients.
Ingredients:
The content of ingredients in the recommended daily portion (one jelly): vitamin A - 330mcg (41% RWS), vitamin D - 5mcg (100% RWS), vitamin E - 5mg (42% RWS), vitamin C - 40mg (50% RWS), vitamin B6 - 0.8mg (57% RWS), niacin - 8mg (50% RWS), vitamin B12 - 1mcg (40% RWS), biotin - 12mcg (24% RWS), zinc - 2.8mg (28 % RWS), iodine - 50mcg (33% RWS) and glucose syrup, sugar, gelatin, water, citric acid, natural flavoring, 0.25% natural orange, 0.2% dye, radish concentrate, safflower extract, concentrate with black carrots, cherry concentrate, glazing substances: carnauba wax, beeswax, vegetable oil: coconut, rapeseed.
RWS - reference intake value.
Action:
Deficiencies of some vitamins and minerals can have serious health consequences, so it is worth taking care of delivering them in the right amounts along with food. Supplement to the daily diet can be a dietary supplement Centrum Jelly with orange flavor, which contain, among others, iodine, zinc, biotin and vitamins A, C and D. For children over 3 years of age, for whom this preparation is intended, vitamin D is especially important , which not only supports the proper functioning of the immune system, it also supports proper bone growth and development. The iodine is also important for proper growth.

Application:
Dietary Supplement Centrum Gummies orange flavor designed for children over 3 years old as a supplement to the daily diet with minerals and vitamins.
Additional information: The
dietary supplement can not be used as a substitute for a varied diet and a healthy lifestyle. Keep the product out of reach of children at room temperature.
Contraindications:
Do not use in case of hypersensitivity to any component of the preparation.
Directions for use:
The recommended daily dose for children over 3 years old: one jelly. Do not swallow, chew until dissolved. Do not exceed recommended servings for consumption during the day.
---