---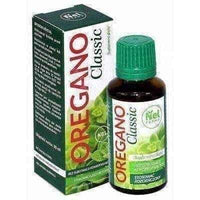 Sale
Oil of oregano is one of the natural antioxidants, substances which neutralize free radicals.

Oregano Classic fluid contains high quality oil of wild oregano carvacrol content of at least 81%.
Ingredients:
sunflower oil, oil of wild oregano (Origanum vulgare). Carvacrol content: minimum 81%.
The recommended daily dose (15 drops - 0,36ml) includes 0.07 mL / 65 mg of oil of oregano.
Action:
marjoram, oregano or popular contains many valuable active substances, including carvacrol. Oil of oregano is a source of antioxidants, or substances with a neutralizing free radicals. Thus helping to increase the protective properties of the cells. Additionally, included in the dietary supplement Classic Oregano oil from this popular plant supports the proper functioning of the immune system. The product is a combination of wild oregano oil with sunflower oil, resulting in a delicate fragrance and a milder taste the finished product.
Application:
Dietary supplement Oregano Classic fluid for use as a support for the proper functioning of the body and keep it in good condition.
Additional information:
Food supplements should not be used as a substitute for a varied diet and a healthy lifestyle. Keep out of reach of children, at room temperature.
Contraindications
not be used in case of hypersensitivity to any component of the fluid. Not for use in women during pregnancy and breastfeeding.
Usage:
The recommended daily dose of 5-15 drops. It is recommended to take 1-3 times a day 5 drops before eating. The product diluted in juice or olive oil. Dissolve 5 drops per teaspoonful of oil or juice. Before use, shake the bottle. Do not exceed recommended servings for consumption during the day.
Net volume: 30ml.