---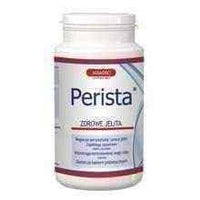 Sale
Dietary supplement PERISTA is a way for constipation, supports the proper functioning of the intestines, provides beneficial probiotic bacteria and helps control weight.

The efficacy provides m.in .: grandmother egg-shaped, inulin and bacterial strains.
Ingredients:
Powdered ispaghula, inulin from chicory, Lactobacillus acidophilus LA02 + Bifidobacterium animalis lactis BS01 (40 billion CFU / g).
Recommended daily dose (10g) of powder contains: energy value - 104,9kJ / 25,4kcal, fats - 0.04, including saturated fatty acids - 0.01 g, carbohydrates - 0.17 g, sugars - 0.1g protein, - 0.13g of salt - 0.01g, fiber - 8,89g, powdered ispaghula - 8.8 g, inulin from chicory - 1.12g, Lactobacillus acidophilus LA02 + Bifidobactrium animlis lactis BS01 (40mld cfu / g) - 0 , 08g.
Action:
The natural source of dietary fiber, which is powdered ispaghula favorably affect peristalsis. Thanks to its absorption capacities support the process of defecation. Additionally shell ispaghula has properties that affect extremely beneficial for the cardiovascular system and blood cholesterol. Two bacterial strains contained in the product - Lactobacillus acidophilus and Bifidobacteriu animalis lactis supply of probiotic bacteria. In contrast, chicory primarily supports the process of digestion, the liver and the intestines, it is also a component of supporting the weight loss process by facilitating weight control. In addition, it helps to maintain normal blood sugar levels.
Use:
A dietary supplement PERISTA intended for use in the regulation of peristalsis and bowel function as an anti-constipation and aid weight control. The preparation for adults and children over 12 years old. Suitable for vegans and vegetarians.
Additional information:
Food supplements should not be used as a substitute for a varied diet and a healthy lifestyle. Keep out of reach of children, at room temperature.
Contraindications:
Do not use in case of hypersensitivity to any component of the supplement.
Usage:
Recommended daily dose: 2 heaped teaspoons (10g). Take twice a day on one heaping teaspoon (5g), taken in the morning and in the evening before a meal. The powder should be mixed with 1/2 cup of liquid (juice, water), then drink plus drink even a glass of liquid.Generally 5g powder should drink at least 250ml of liquid. Do not exceed recommended servings for consumption during the day.
Net weight: 200g.
---