---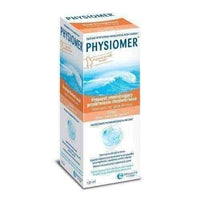 Sale
PHYSIOMER HYPERTONIC is a preparation that not only dilutes the secretion in the nose, but also helps its purification from impurities.

It also works moisturizing and soothing.
Composition:
100% natural sea water, concentrate of hypertonic salt corresponding to 2.2 g / l of mineral salts, sterile, without preservatives. does not contain a carrier gas.
Action:
The preparation intended for local use is a natural remedy, safe for health. Supports thinning of nasal mucus and cleansing it of various types of impurities. It protects against upper respiratory tract infections and has a moisturizing effect. It brings a feeling of freshness.
Indications:
The product is intended for use in case of nasal obstruction caused by infection of the upper respiratory tract. Recommended as part of the hygiene of the nose and ears.
Dosage:
The product is intended for topical, nasal use. Apply 1 dose x 2-3 / 24h.