---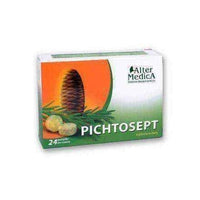 Sale
PICHTOSEPT (impotence treatment, relieve pain) formulation which controls bacteria and fungi, and regenerates.

It will accelerate wound healing, relieve pain and counteracts impotence.
Ingredients:
corn syrup, sugar, acidity regulator (citric acid), oil of fir (1%).
Action:
The preparation belongs to the broad category of natural supplements. Thanks to the oil pachtowego exhibits bactericidal and fungicidal properties, excellent checking during the treatment of upper respiratory tract infections. Restricts the production of mucus in the bronchi and supports the treatment of cold, cough and strep throat. It stimulates the immune system.
Indications:
The product must be used in the case of infections of the upper respiratory tract - rhinitis, cough, angina, flu and colds.
Dosage:
For oral use, tablets, lozenges 5-10.