---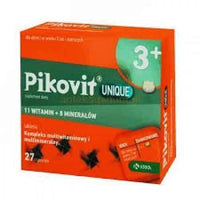 Sale
Pikovit Unique children's growth vitamins COMPOSITION:
11 vitamins and 5 minerals

Pikovit Unique children's growth vitamins INDICATIONS:
Support the growth of children.

ADMINISTRATION AND DOSAGE:
For children over 3 years: 2x1 tablet.
Tablets for children 3+
Pikovit Unique
tablets 27 pcs.
Features:
A source of vitamins and minerals for children 3 years of age and older.

Contains no colors or preservatives, no artificial sweeteners or flavors.
Pikovit Unique children's growth vitamins Active ingredients:
Vitamin C

is responsible for the density of the vascular wall, has a positive effect on immunity: it takes part in the formation of an adequate immune response, mainly in viral infections.

Calcium and phosphorus

are essential minerals for the skeletal system, tooth enamel, and muscle function.

Together with vitamin C, calcium is able to form so-called chelate complexes (or they are also called intracomplex compounds), which improve the absorption of these substances, this is taken into account in the Pikovit preparation.

Vitamins A and E

are natural antioxidants that prevent free radical oxidation, are responsible for strong hair and nails, and also provide normal protective functions of the skin.

Vitamin A is involved in the reactions of visual pigments on the retina, with the help of which normal perception of visual sensations is carried out.

B vitamins

in Pikovit participate in the formation of the myelin sheath of nerve fibers, provide the conduction of nerve impulses in the central nervous system, as well as in its peripheral parts.

Iron

participates in the formation of hemoglobin, provides oxygen transport by red blood cells.

Iodine is

essential for the formation of thyroid hormones.

For children 4 years and older, this is especially important because iodine deficiency can lead to a decrease in thyroid function, which always affects cognitive abilities: memory, attention and learning ability are markedly reduced, the child becomes lethargic and not interested in the world around him.

Therefore, it is so important to prevent iodine deficiency in children over 4 years old, especially during the period of formation of mental abilities.

Selenium

has antioxidant activity, being included in the "active center" of some enzymes, for example, glutathione peroxidase.

This enzyme prevents damage to the structure of nucleic acids in DNA: it is necessary for the correct "reading" of information necessary for fundamental biochemical processes in the body, for example, for protein synthesis.

Copper is

essential for the synthesis of certain protein enzymes, as well as for the normal functioning of the immune system.

Participates in the processes of hematopoiesis.

Magnesium

takes part in the normal functioning of the nervous system, muscle tissue, and takes part in the process of neuromuscular transmission.

Essential for the synthesis of many enzymes.

Zinc

contributes to the production of immune defense factors and is involved in the metabolism of nucleic acids.
Mode of application:
Children 3 years of age and older, 2 chewable tablets daily with meals.

It is not recommended to exceed the daily dose.

If the recommended daily dose is exceeded, a laxative effect may develop.

Duration of admission is 1 month.