---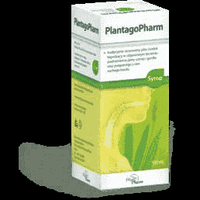 Sale
PLANTAGOPHARM syrup is a natural product of calm irritated mucous membrane of the respiratory tract. It facilitates expectoration and has anti-inflammatory properties.
Ingredients:
100 g of the drug contains 8.0 g of liquid extract from the leaves of plantain Plantaginis lanceolatae film extractum fluidum (1: 1);extractant: ethanol 25% V / V, ingredients: sucrose, concentrated flavor of black currants, potassium sorbate, citric acid monohydrate, purified water
Action:
The product has a natural composition. It contains a liquid extract from the leaves of plantain, which has a soothing irritation to the mouth and throat. In addition, it relieves dry, nagging cough. Its operation is confirmed by numerous studies. Plantain is a plant often used in folk medicine. Exhibits expectorant and responsible for blocking the secretion of mucus. It also acts as an anti-inflammatory.
Contraindications:
- Hypersensitivity to the active components of the preparation
- use in children under 3 years of age
- pregnancy and lactation
- alcoholism
- a disease of the liver
Indications:
It is recommended to use the product in adults and children over 3 years of age in case of irritation of the mouth and throat and tiring, dry cough.
Dosage:
For oral use. Children from 3 to 4 years of age administered 5 ml of syrup x 3 / 24h. Children from 5 to 11 years administer syrup 10 ml x 3/24. In adolescents over 12 years of age and adults use 10 ml syrup x 3-4 / 24. Do not use for longer than 7 days without consulting a doctor.
---