---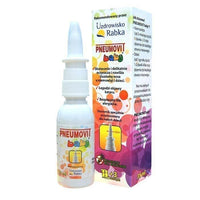 Sale
Baby nasal spray. Natural way to clear blocked nasal openings.

Pneumovit Baby nasal spray, created on the basis of spa mineral water, is safe for use in children and infants who have 3 months of age.
Pneumovit Baby nasal spray Composition:
Purified physiological spa solution of natural mineral water with micronutrients.
Action:
Nasal Spray Pneumovit gently but effectively cleanses the nasal mucosa, further moisturizing it. Recommended as a remedy for cold sores. Natural composition makes it safe for infants, as well as allergies, and can be used for extended periods of time. The innovative tip makes it easy to insert it into the nose, and in addition it is equipped with a hygienic stopper. The 35ml package is about 350 doses.
Use:
Pneumovit Baby nasal spray is intended for use in:
nasal congestion and paranasal sinuses due to infectious and allergic rhinitis; Cleansing of mucous membranes before administration of drugs by inhalation; As a supplement to the treatment of upper respiratory tract; For the purification of mucus from allergens (pollen, dust); For moisturizing excessively dried nasal mucus due to being in dry and air conditioned rooms; For daily hygiene of the nose. Recommended for children and infants over 3 months old.
Additional Pneumovit Baby nasal spray Information:
Microcrystalline mineral mineral compounds may occur in the tip of the atomiser if there is a long pause in its use. Simply remove the dispenser cap and rinse it in clean, boiled, dehydrated water.
How to use:
Before using for the first time, press the dispenser several times to fill it. Infants over 3 months of age: Spray 1 dose to each nasal opening, repeat the application 2-3 times a day. Children over 1 year of age: Spray 1-2 doses several times daily into each nasal opening.