---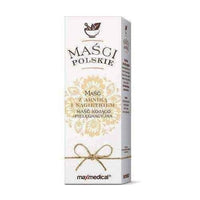 Sale
Polish Cream. Polish ointments are a series of Maxmedical brand, which consists of among others.

Ointment with arnica and marigold.

Its top quality ingredients soothe and soothe the swelling and bruising of the skin.
Action:
Arnica extracts and marigolds are anti-inflammatory ingredients, and are often used in preparations recommended for use in the treatment of bruises and edema. A soothing-care cream with arnica and marigold is soothing and soothing, it is suitable for skin care after injury. In addition, the ointment also has a relaxing effect, so it can be successfully used as a massage formulation.
Application:
Polish ointment Ointment with arnica and marigold recommended for use in cases of bruises and edema.
Additional Information:
Keep out of the reach of children at room temperature.
Contraindications:
Do not use in case of hypersensitivity to any ointment ingredient. Do not apply on damaged skin and open wounds.
Usage:
For external use only. Apply a small amount of ointment on the cleaned and dried skin. Then gently smear. Frequency of use depends on individual needs.