---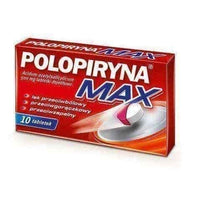 Sale
Polopiryna MAX formulation was established on the basis of one of acetylsalicylic acid with an NSAID.

Responsible for analgesic and antipyretic properties.

In addition, it relieves inflammation.
Polopiryna MAX 20 gastro-resistant tablets Composition:
active substance is acetylsalicylic acid. 1 enteric-coated tablet contains 500 mg of acetylsalicylic acid. Other ingredients: corn starch, modified corn starch, hypromellose, methacrylic acid, talc, titanium dioxide, triethyl citrate, lak with cochineal red (E124), colloidal silica, sodium bicarbonate, sodium lauryl sulphate.
Polopiryna MAX 20 gastro-resistant tablets Action:
The medicament includes aspirin, which belongs to the broad category of non-steroidal anti-inflammatory drugs. Thanks to relieving symptoms such as pain of various origins, fever and inflammation. Formulation is enteric coated tablets, which disintegrate in the small intestine only. In this way thereby reduced irritant effect of the active substance to the mucosa of the stomach.
Polopiryna MAX 20 gastro-resistant tablets Contraindications:
- hypersensitivity Components drug
- sensitivity to other non-steroidal anti-inflammatory drugs
- gastric ulcers and (or) duodenal inflammation or gastrointestinal bleeding
- bronchial asthma, chronic respiratory diseases, hay fever or condition of edema of the nasal mucosa
- coagulation disorders blood and the simultaneous use of preparations of anticoagulants (heparin, coumarin)
- concomitant methotrexate 15 mg per week or more
- severe liver, kidney or heart
- deficiency of glucose-6-phosphate
- feeding children younger than 12 years, particularly when viral infections
- pregnancy and lactation
Indications:
Preparation administered with pains of various etiology, of light and the average intensity, for example. In the case of: headache, dental pain, muscle or joint. Also indicated by the symptoms of colds and influenza or at the request of the doctor in the case of conditions requiring chronic administration of aspirin in high doses.
Dosage:
For oral use. In the treatment of analgesic and antipyretic, usually in adults recommend the use of - a single 500 mg-1000 mg (Table 1-2.). If necessary, this dose may be repeated x 2-3 / 24. Adolescents over 12 years administered 500 mg to 1000 mg (1-2 tablets.) / 24. Without consulting a doctor, you do not take the drug longer than 3 days. In rheumatic diseases, only the medical recommendations, is generally used: the rheumatic fever: 1000 mg (2 tablets) x 4/24, in rheumatoid arthritis: 500 mg (1 tablet) x 3-4 / 24.